CAREER PLANNING
How to Become a CFO: Responsibilities, Qualifications, and Career Tips
Ready to take that leap into one of the hottest roles in the boardroom? No matter your industry, opportunities abound for aspiring chief financial officers. This fast-paced, forward-thinking, and well-paid position will challenge and thrill you every single day.
We've got the ultimate guide on how to become a CFO right here.
Like all executive positions, becoming a CFO requires a commitment to the long-haul and careful planning along the way. We'll help you figure out where you stand and what you need to do to accelerate your path forward while avoiding common pitfalls by making smart choices about your education and career experience. 
By the time you're through, you'll have the foundations for your strategy to secure that coveted executive position. Let's get started!
CFOs Are in Demand: A Sunny, Competitive Career
If you're envisioning your future as a CFO, make it a bright one.  
According to the U.S. Bureau of Labor Statistics, financial managers at every level have experienced a 16 percent growth rate in their job outlook since 2018, with that rate projected to stay steady through 2028. That's four times the national average of similar careers, such as sales managers (5 percent) or even other executive roles (6 percent).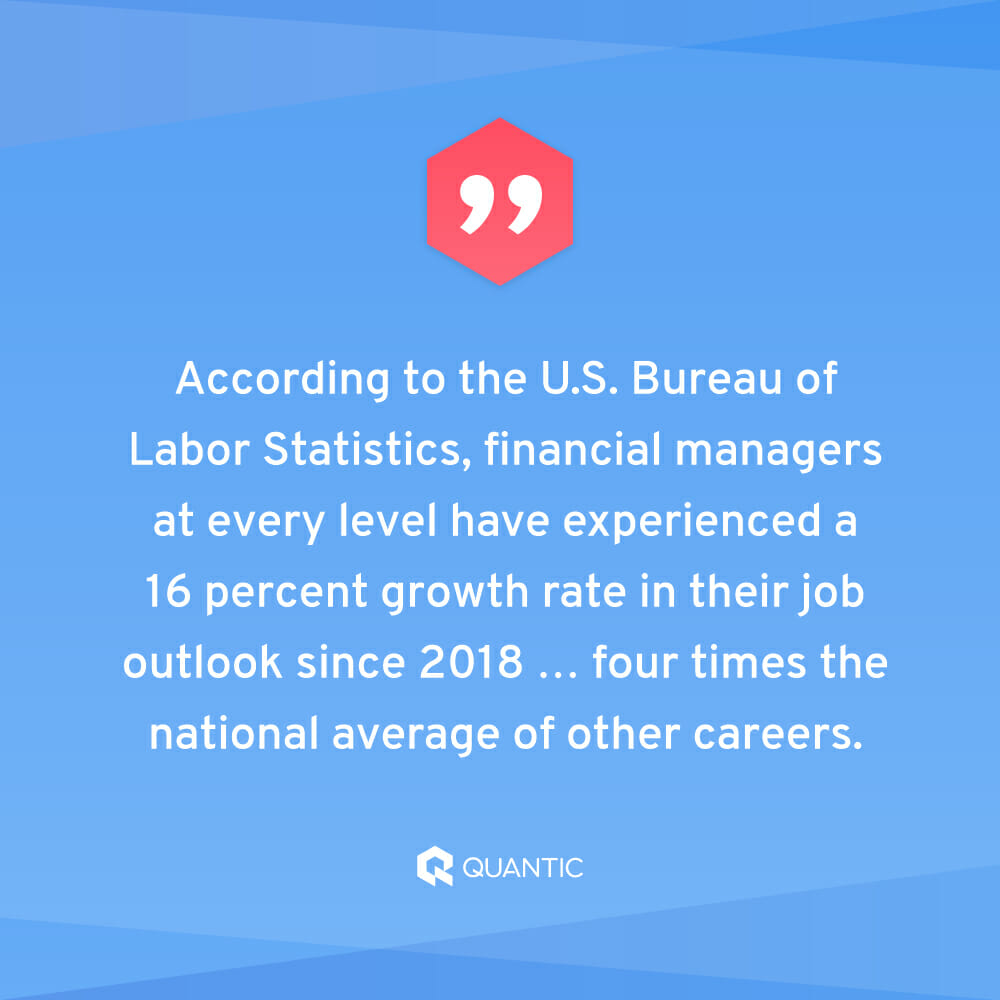 CFO Salary
What does a highly skilled executive like the CFO earn?
According to Indeed, the average salary is $149,399 per year (plus benefits) in 2023. However, it's possible to earn closer to $200,000 per year if you're located in an area like New York City, where demand for CFOs is particularly high.
Determining the salary of a Chief Financial Officer (CFO) also depends on various factors such as company size, industry, and education level.
Firstly, the size of the company plays a significant role in determining the salary of a CFO. A CFO in a large company typically earns a higher salary than a CFO in a small company. This is because larger companies typically have more complex financial operations, which require a higher level of expertise and experience to manage effectively.
Secondly, the industry in which a company operates also impacts the CFO's salary. Some industries, such as finance and technology, tend to offer higher salaries to CFOs compared to other industries. This is because these industries typically have higher revenues and require a greater level of financial management and oversight.
Thirdly, education level is also a crucial factor in determining the salary of a CFO. CFOs with advanced degrees such as an MBA, a finance degree, or a CPA certification, typically earn higher salaries than those without. This is because such advanced qualifications demonstrate a higher level of expertise and knowledge in financial management, which is highly valued by employers.
What Is a CFO? Responsibilities and Role
A CFO is the senior financial manager responsible for overseeing and managing the financial actions of a company. Like a treasurer or financial controller, CFOs often manage an organization's finance or accounting departments.
However, unlike a controller, the CFO makes decisions that have an impact on the overall direction of the company. For example, a controller may review financial statements to audit them for accuracy and adherence to regulatory compliance. In contrast, the CFO reviews those same financial statements to analyze them before making recommendations to improve the company's financial performance.
Nonetheless, you'll sometimes see a CFO referred to as a top-level financial controller, where their primary responsibility lies in overseeing all cash flow and financial planning in an organization. 
The Duties of a CFO
As a CFO, you'll wear many different hats throughout the day. Expect to:
Lead, direct, and manage the organization's finance or accounting teams.
Advise the CEO or other executive members on the financial implications of business plans or current events.
Review formal finance, H.R., or IT-related financial procedures to enforce policies or internal controls.
Manage or oversee independent auditors.
Plan, execute and oversee upgrades to financial systems, processes, or technologies.
Relate with investors or shareholders to gain a deeper understanding of their needs and expectations.
Provide data-driven analyses and recommendations related to the financial goals of a company.
Who Does a CFO Manage?
Traditionally, the CFO heads the finance or accounting department. Here, you may manage a range of professionals, including:
Accountants
Controllers
Tax professionals
Analysts
Human resources
Investor relations specialists
However, any financial hierarchy within a company will fall under your leadership. In general, if any planning or analysis requires the input of an expert on the financial impacts, you can expect to be tapped for your advice.
The Skills & Qualifications of a CFO
Get ready to showcase your flexibility, adaptability, and willingness to be proactive in supporting sustainable growth. The CFO is one of the fastest evolving positions at the executive level thanks to rapidly advancing technology and shifting expectations about the way we do business.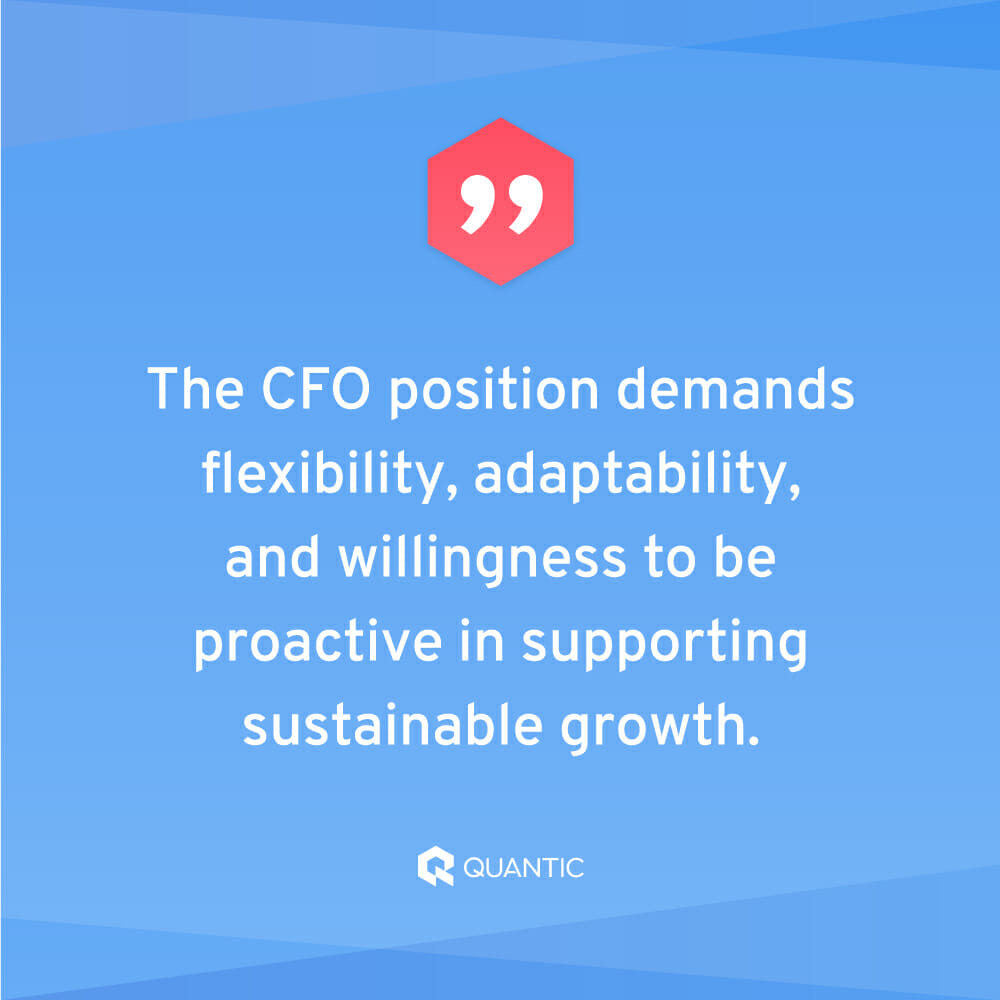 But technology isn't the only arena in which you'll need to demonstrate competence. You'll need a range of hard and soft skills to navigate your position effectively. You can break those skills down into four distinct categories:
1. Leadership and management skills. Almost everything you do as a CFO involves some form of leadership. Whether it's managing a team to implement new financial infrastructure or getting other executives on board with a plan, understanding leadership fundamentals is crucial to success. 
2. Accounting skills. CFOs are expected to demonstrate technical expertise in accounting and financial topics. Additionally, you'll need to have a solid grasp on abstract subjects that have concrete impacts in the business world, such as the time value of money.
3. Data skills. According to Deloitte, businesses increasingly expect CFOs to handle business and financial analytics, using it to make highly data-driven decisions. At least 18 percent of CEOs who responded to their survey believed those responsibilities belonged solely to CFOs.
4. Strategy skills. The CFO is responsible for laying the financial foundation to help a company reach its goals. Expect others to turn to you when it comes time to find that uncontested market space that makes competitive and financial sense. 
Deloitte identifies four key skill sets that CFOs must possess. They are:
Steward: Protects vital assets, closes the books correctly, ensures compliance.
Operator: Emphasizes efficiency and effectiveness in the organization's finances. 
Strategist: Develops long-term plans to improve the company's financial performance.
Catalyst: Drives business improvement initiatives to keep the company competitive.]
The Most Common Degrees for CFOs
You'll need a bachelor's degree to become a CFO. The U.S. Bureau of Labor Statistics notes that the most common are finance, public accounting, economics, public administration, and business administration.
A master's degree – usually in one of those same fields – also comes highly preferred due to the level of management you'll demonstrate every day. Common master's degrees include:
Master of Business Administration
Master of Science in Accounting
Master of Public Administration
Master of Accounting for Financial Analysts
Master of Accounting for Financial Managers
Getting an MBA Is a Very Smart Move
Strongly consider getting an MBA along the way. According to Russell Reynolds Associates, 62 percent of all CFOs hold advanced degrees, with the vast majority opting for an MBA. (Plus, executives possessing one can expect a pay bump by as much as 16 percent, according to research by Wayne State University in Detroit.)
However, an MBA is valuable because it increases the breadth of your business knowledge. Imagine trying to understand why a product is underperforming but having no grasp on whether it's the product itself or the result of a failed marketing campaign.
Or, imagine leading a company restructuring to reduce overhead and improve cost-effectiveness, but proposing a recommendation that inadvertently cuts the company's most valuable talent.
Both scenarios could break the company and end your career super-fast.
As a financial executive, your decisions and recommendations directly impact the course and wellbeing of the company. An MBA will help you expand your perspective to contextualize your decisions within the organization better.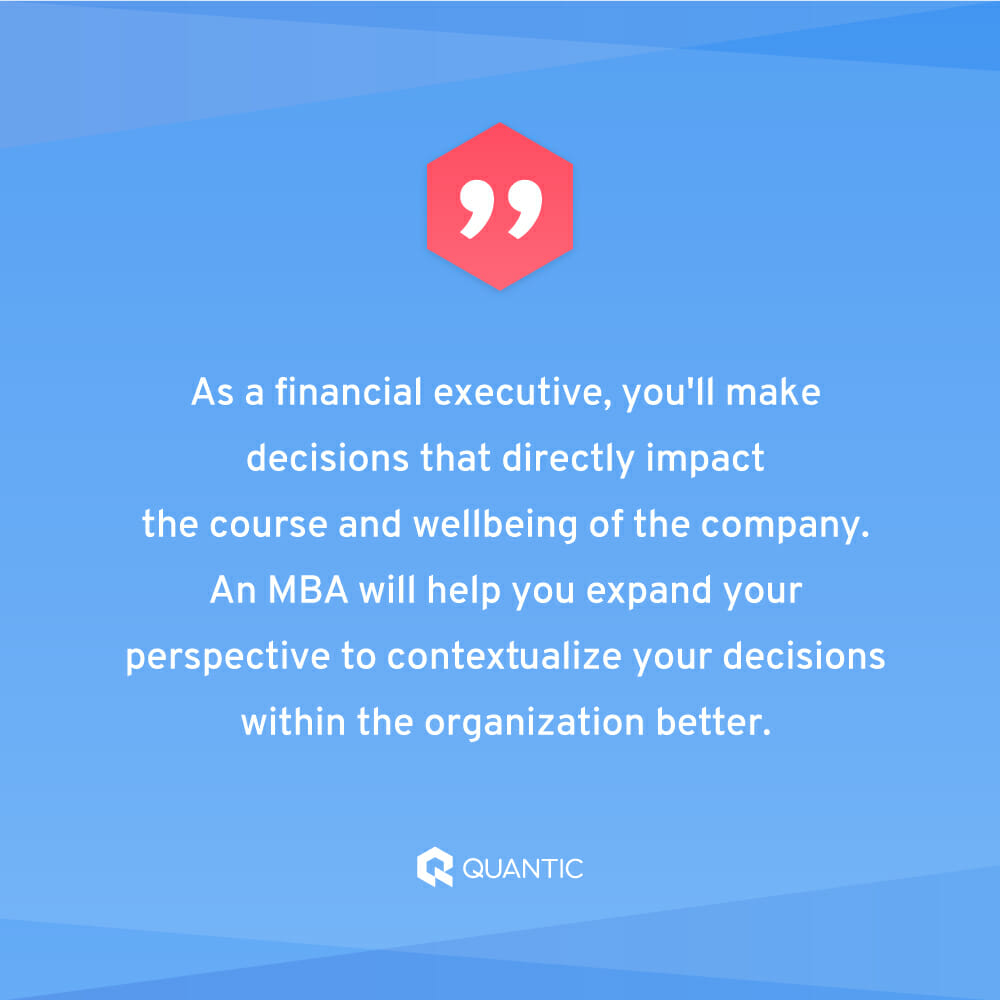 Today, many different types of MBAs exist. Traditional MBAs can provide more hands-on guidance, while an online MBA is great for self-motivated people who want to work while they go to school. We've covered the advantages of each to help you determine which path is right for you. 
Here's a list of just a few of the elite-level CFOs who have earned an MBA:
Consider an EMBA
MBAs are expected in the boardroom now. So, taking your education a step further can set you apart. An Executive MBA (EMBA) is specifically designed for mid-career professionals and entrepreneurs who want to keep working full-time while developing more advanced skills.
An EMBA curriculum is slightly different from a traditional MBA in that it emphasizes leadership and strategy skills in the context of a corporation. At the same time, you'll still learn everything that you would in an MBA curriculum; an EMBA is explicitly geared towards professionals seeking an executive position.
Avik Bhowmick, a Quantic Advocate, currently holds the position of Vice President and Global Team Lead at JPMorgan Chase. He has faced personal challenges in his life, but has been driven by his passion for education and strong work ethic. Avik has demonstrated a growth mindset and an unrelenting thirst for knowledge.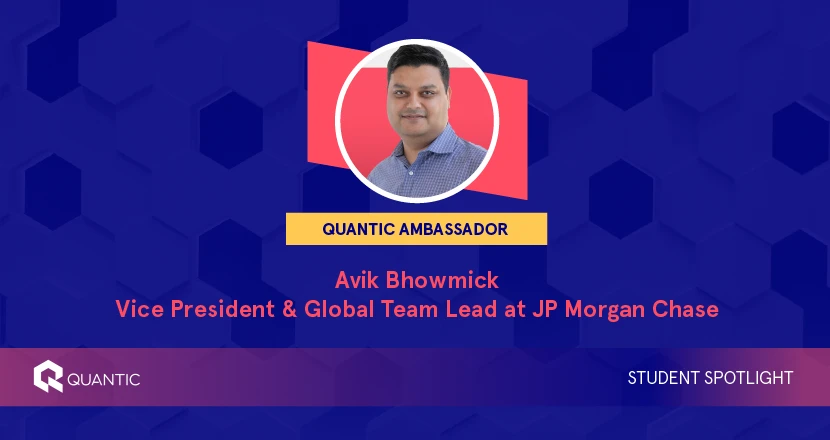 Do You Need to Become a CPA?
Technically no, but many CFOs started out as CPAs. The position requires a solid understanding of accounting, so it will give you an advantage. However, according to organizational consulting firm Korn Ferry, the percentage of CFOs who are also CPAs has fallen over the past decade. In 2014, some 46 percent of CFOs were certified public accountants. In 2019, that number had dropped to 36 percent.
A CFA Can Become a CFO
A chartered financial analyst shares some of the technical expertise of a CPA, but a CPA typically has a much stronger grasp on accounting, taxes, audits, and other skills a CFO needs. That said, if you're a CFA, you'll stand the best chance at becoming a CFO by pairing your current degrees and certifications with an MBA. To take this route, look for an MBA program with a strong emphasis on accounting fundamentals to gain the technical skills you'll need.
The CFO Career Path
If serving as a CFO is on your professional bucket list, be prepared for the long-haul. According to one interview with a CFO, potential prospects typically have around 10 years of related background and experience before seeking the position. If you're laying out your career planning early in your professional development, you can take steps to accelerate your trajectory – such as picking out a business school with a proven track record in helping students achieve their career goals faster.
How to Become a CFO
Attaining the top position in the financial role takes careful preparation. Whether you're just starting or are looking to advance your career, here are a few tips to help you out.
1. Choose Your Degrees Wisely
You'll need a bachelor's degree. Most likely, you'll also need an advanced degree to carry you forward. Pay special attention to degrees and programs that give you a solid grasp in accounting plus other financial skills. 
Your competition probably has an MBA, but remember that not all MBAs are created equal. Check out the differences between an online MBA and an advanced EMBA right here. 
2. Gain Broad Financial Experience
Actively choose jobs that broaden your financial experience. In addition to accounting, consider positions that demonstrate budgeting, analysis, risk management, investing, and more. The more well-rounded you are, the stronger candidate you become.
You can do this in a variety of jobs, or you can work your way through one company. If the former, it's wise to stay in the same industry to deepen that experience as well. Many people also pursue a CPA license for this purpose.
3. Take on Roles that Expand Your Skillset
You'll need to know more than just finances. Look for opportunities to widen your customer service experience, business and operational expertise, technological literacy, and leadership skills.
4. Join a career network.
Career networks can put you in touch with the right people when you're ready to become a CFO. Join one sooner than later to begin forming connections. Consider the presence of network opportunities when you pursue your MBA or advanced degree. Some programs have career networks which you can leverage while you study.
5. Pursue Board-Readiness Training
Done everything above? Think about sharpening yourself with a board-readiness program. Deloitte recommends that professionals seeking an executive position attend board-specific training to develop a deeper understanding of what's expected of you in the C-suite.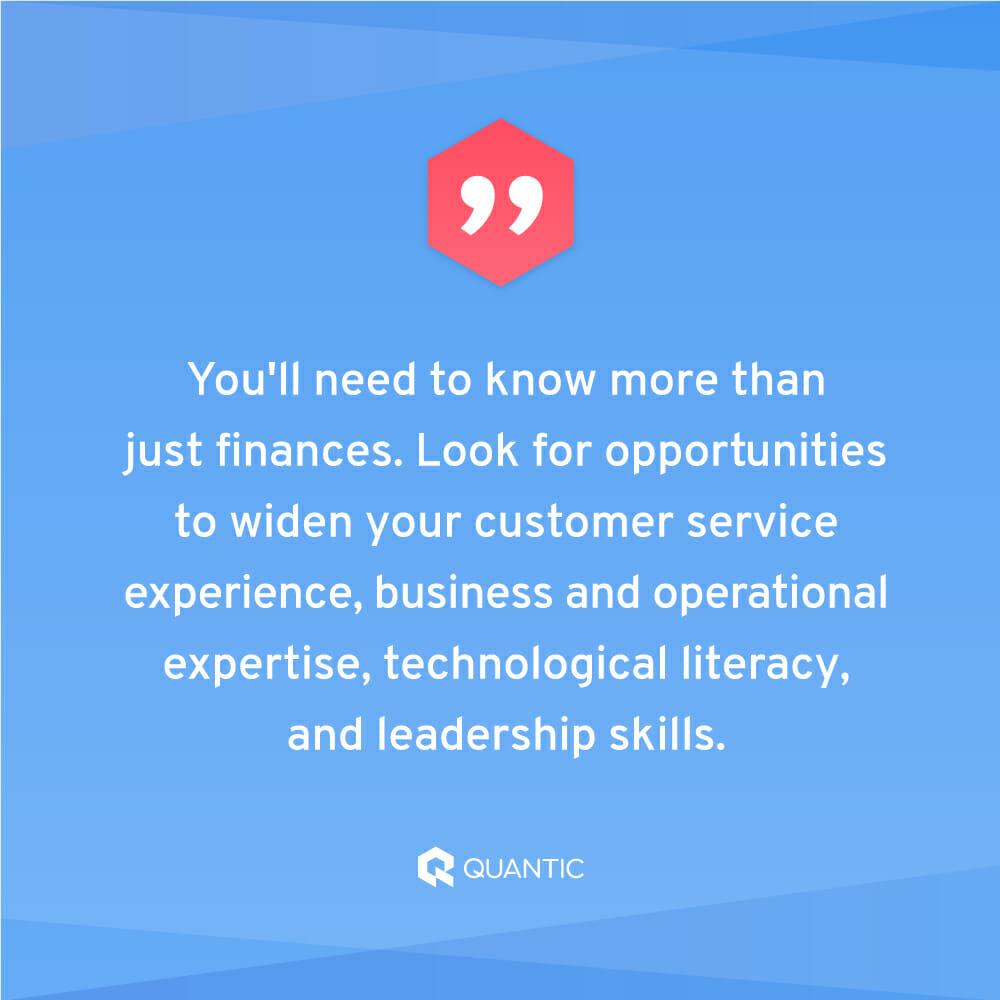 Summary: How to Become a Great CFO
The Chief Financial Officer is a staple in the board room, playing a vital role in keeping the company compliant and profitable. Yet, the route to achieving that coveted role can seem confusing, leading many people to feel as though it remains just out of reach. 
With the right preparation and strategy, you can absolutely become a CFO. We've outlined what it takes to become one, the skills you will need, and provided some pointers in the steps you can take right now no matter where you are in your career. 
Happy advancing!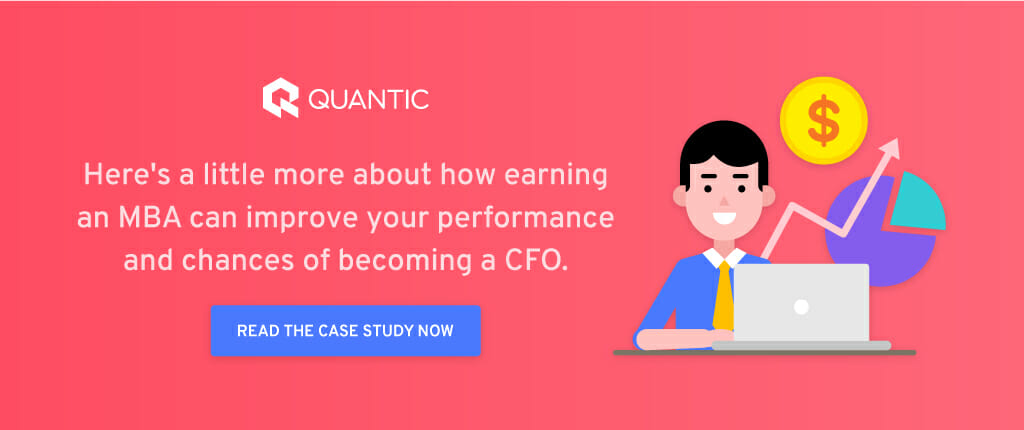 becoming a CFO. Read the case study now.