Empower Your Future
Develop core business skills to maximize your career success. As an accelerated 14-month program of study, the MBA is designed for the early-career professional with leadership potential. The award-winning curriculum combines interactive technology and collaborative group study with exceptional classmates around the world, delivered in a structured, yet flexible format.
Ready to start?
Apply for free!
CLASS SIZE

150 - 200 students

Mid-career professional? Learn about the Executive MBA.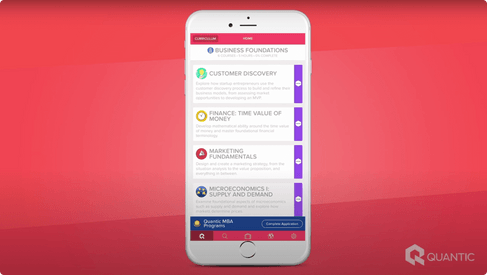 Student Experience
Students learn through our innovative Active Learning method, while collaborating with classmates in case studies, discussions, group projects, and events held virtually and around the world.

The curriculum is enhanced with an online library, paid research databases, extended access to coursework, resume consultations and access to leading employers.
MORE ON THE STUDENT EXPERIENCE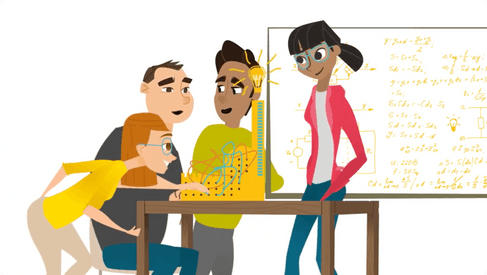 Our Method
Quantic is a pioneer in technology-driven instructional design. Our award-winning interactive software represents the core of the MBA curriculum. Our team of writers, editors and developers work with leading professors from top business schools to bring the traditional MBA to life, with bite-size lessons and individualized feedback.

Cohorts follow a guided sequence through the curriculum, working together on case studies and group projects in our accompanying social learning platform.
MORE ABOUT OUR METHOD
The Curriculum
The curriculum is comprised of 0 required concentrations plus 1 specialization during the course of study.
Social Learning
As a companion to our interactive online curriculum, enrolled students engage with their classmates around the world in our social learning platform. Students work together on case studies and collaborative group assignments throughout the program.
Events
We organize virtual and in-person meetups and excursions in international cities around the world, giving our thousands of students and alumni the chance to socialize and network professionally. Students benefit from the learning and bonding experience with their exceptional classmates and the Quantic staff.
MORE ABOUT EVENTS
Degree
The MBA is awarded by Quantic, a DEAC accredited, degree granting institution of higher education, licensed by the Office of the State Superintendent of Education (OSSE) of Washington, DC.
Learn more
What people are saying

Weichao Rachel Zhai
Stanford University
Senior Associate, Investment, Vertex Ventures
"Really informative classes and intuitive online platform. Great learning and networking opportunity, I would highly recommend it!"

Tom Garvey
University of Oxford
Manager, Strategy & Operations, Google
"The Quantic MBA was a great experience. Highly engaging content delivered thoughtfully and in an interactive way. It feels like the future of education!"