The Quantic Efficacy Study
We understand the skepticism with online degrees. They often lack quality education, offer limited credibility, and come with high tuition.

Quantic is changing all of the above. With our award-winning Active Learning method, we teach faster and more effectively than traditional lecture-based instruction.
About our method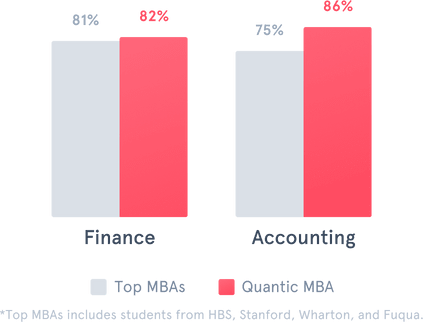 Quantic vs Top MBAs
In an independent study by Stanford academics, Quantic students in Accounting and Finance performed as well or better than traditional MBA students comprised of many of the top 10 business schools in the world, including Stanford, Harvard, Wharton and Fuqua. Oh, and they did so over 5 times as quickly.
See full study
How do students value it?
Very highly. The study surveyed participants in overall satisfaction. With Net Promoter Scores (NPS) ranging between 40-52, students expressed extreme satisfaction on par with students at Harvard (41) and Wharton (51).
MBAs in the Fortune 100
2021 Quantic grads working in Fortune 100 companies, compared to other top schools.
Source: Kaiser Associates
148

Northwestern (Kellogg)
MBAs in Big 4 Accounting
2021 Quantic grads working at Deloitte, EY, PwC, and KPMG compared to other top schools.
Source: Kaiser Associates
What people are saying

Trisha Hautéa
Tufts University
MIT, Program Facilitator
"I quickly learned how legitimate and challenging the Quantic MBA program is. It's comprehensive and I learned way more than anticipated."

Veronica Shea Salkin
Northwestern University
Primary Stages, Marketing
"What I learned will stick with me far longer than a standard lecture-based curriculum could."