Active Learning
With decades of experience in educational technology, as well as pedagogical conviction in experiential learning, Quantic has reinvented adult education with interactive, mobile-first learning we call "Active Learning."
More about our efficacy
Mastery-Based Progression
Gone are the passive approaches of video-based talking heads and long-winded prose. Instead, Quantic lessons constantly challenge learners, requiring interactions every eight seconds. As every 5-10 minute lesson builds on prior lessons, students test their understanding while confronting new course material in a mastery-based progression of learning that ensures student advancement.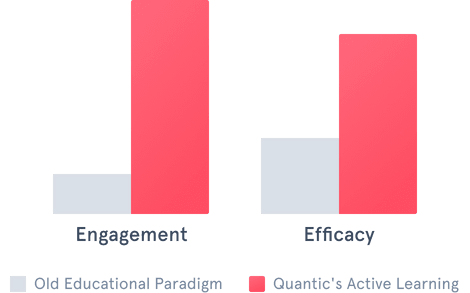 Don't Teach and Test...
For too long, online education has systematized the least effective practices of classroom instruction, broadcasting information then testing for student comprehension. Online education incumbents have stuck with this passive paradigm, despite poor engagement and efficacy.
...Test to Teach!
With Active Learning, our courseware immediately challenges the student to think as the protagonist. We're not a lecturer, but rather a mentor and tutor, providing activities where students engage, making decisions with immediate feedback. We test not to confirm comprehension but rather as an opportunity to teach.
More about our efficacy
Active Learning flips the old educational paradigm with dramatic effects in both efficacy and retention.
See the study
What people are saying

Lindsey Allard
Dartmouth College
"I loved the Quantic program. I have never experienced interactive learning the way Quantic provides. Highly recommend this to anybody who wants to take their career to the next level!"

Samuel Miles
Yale University
African Leadership University, Facilitator
"Quantic is pedagogy done right for the modern omni-learner. As an educator I could really see the best practices so often talked about baked in seamlessly."