EDUCATION
Should I Get an MBA? The True Cost and Benefits of Getting an MBA
MBAs are not for the faint of heart, but they're more accessible than ever to those up for undertaking this impressive achievement. Thanks to changes in the business world and the nature of education, you have more options to consider when selecting a program.
While the MBA is the ultimate degree in the business world, not all programs are created equal. 
Before you hit the button to apply, make sure you've adequately weighed the pros and cons of each option by:
Calculating the true ROI of the program
Uncovering the real value of the specific degrees offered
Identifying what features you need in a program
We'll show you how to do all three, and provide plenty of other pointers along the way. Let's dive right in.
How to Calculate the True ROI of an MBA
If you're looking into different MBA programs, you will notice various discussions about what the "ROI" of an MBA looks like. 
The good news? No matter what area of business you decide to enter, an MBA pays off. You'll see a return on your investment over the long-run – guaranteed. However, not all MBA programs are created equal, and not all calculate their ROI by including the full value that the program or school offers. 
According to The Princeton Review, the most common way that schools calculate the ROI of their MBA is how long it takes each student to recoup the cost of the program itself. For example, if an MBA program from a major school costs you $50,000 and you land a $100,000 salaried position with it, then that's considered an extremely high return on your investment because you'll recoup your costs in a year. In contrast, if it costs you $50,000, but you land a job that pays only $65,000, you may spend five or six years recapturing your expenses. That leads to a lower ROI.
By that logic, the cheaper the program, the greater the ROI – but we all know that isn't true. 
The return on your investment analysis should also consider opportunities and costs. As you peruse programs, ask yourself about:
Career sacrifices: Do I have to stop working to pursue this program? If so, how much will that affect me?
Networking opportunities: Will this program allow me to access high-caliber connections in the business world, thereby accessing quality career opportunities? 
Electives and specialties: Is the program teaching me the basics, or will I have the chance to take elective courses that help me develop transferable skills?
Program match: Is the program appropriate to my specific career path, or is it too basic or too advanced? 
Imagine arriving at your new program only to discover that your professors assume you have certain business expertise that you don't, or that the career network is non-existent. A program that's a bad fit for you is just as worthless as a low-quality program that doesn't give you the skills you need.
With these, you'll have a better sense of whether a specific program worth it to you. 
The Benefits of Getting an MBA
An MBA can convey several expected and unexpected benefits. In addition to more earning power and access to more high-powered jobs, you will enjoy:
A more extensive network of colleagues and friends. An MBA program is a great place to meet connections from all around the world, even your next business partner. (Yelp, OkCupid, and GrubHub were all started by people who met in MBA programs.) 
Differentiation in the job market. Depending on your industry, an MBA will set you apart from the competition, presenting you as a strong candidate for your dream job.
Improved communication skills. You'll learn how to communicate professionally, developing better relationships with your bosses, colleagues, or employees.
A re-energized career. If you're feeling stuck in a rut and burned out, an MBA can help you access opportunities that previously stood out of reach. In addition to business acumen, you'll gain transferable skills that let you be more productive at work.
Better job security. Possessing an MBA makes you a more valued member of any team. That translates to a decreased likelihood of losing your job in a turbulent market and helps reduce the time between jobs.
The Hidden Value of an MBA in Today's Market
In 2019, some of the most prominent schools in the U.S. reported plummeting enrollment rates in their MBA programs. During the same time, tech fields of every stripe represent some of the fastest-growing job markets, and schools report no shortage of applications to their STEM programs.
This trend towards technology-oriented degrees and jobs has left some people asking if MBAs have grown outdated.
They haven't. 
According to the 2018 Corporate Recruiters Survey, 85 percent of businesses in the U.S. expected to hire an MBA graduate. 
Why Companies Value Employees with MBAs
An MBA does more than just impart practical business knowledge. Companies actively seek out MBA graduates because they:
See the big picture. MBA graduates leave school with a mature perspective on business, which makes them useful for understanding things like market context and competition.
Think long-term. They know how to plan and how to analyze the ways that actions today will impact tomorrow. (That's critical if you ever want to become a COO, for example.)
Lead teams. MBA students have ample opportunities to develop their leadership skills through real-world projects and internships, making them effective leaders in the workplace.
Possess diverse and qualified connections. It's not just the graduates who benefit from career networks – employers can also tap into the relationships their employees have formed.
Do I Need an MBA to Become an Executive?
No, but it can represent a significant competitive advantage. At least 40 percent of Fortune 500 CEOs sport an MBA on their resume. 
Is an MBA Necessary for Marketing, Finance, Operations, or Engineering?
Increasingly, yes! 
Professionals who come from technical backgrounds like computer science or engineering often overlook MBAs. However, if you're looking to become a Chief Technical Officer or a Chief Financial Officer, an MBA can prove a powerful combination with your technical degrees and significantly improve the odds of being selected to serve on a board.
What's the Best Age to Get an MBA?
The best time to get an MBA is after you have some work experience under your belt. 
According to Vanderbilt University, the average age of MBA students is around 28, but it's not uncommon to see slightly older candidates in programs. According to UCLA, the average age for executive MBA programs is 36.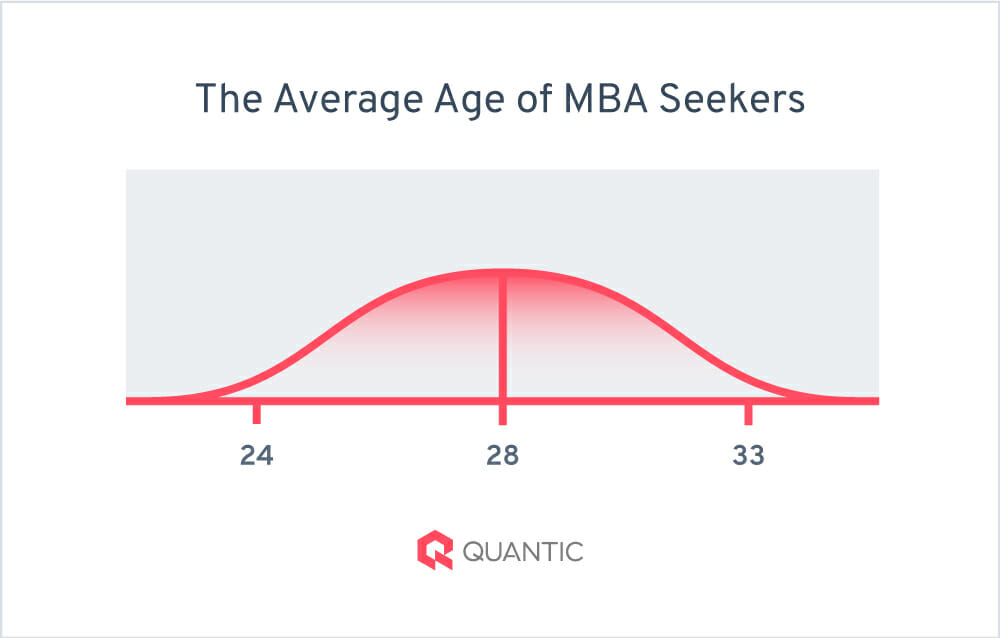 What Type of MBA Should I Get?
Professionals pursuing MBAs have more options than ever before. That's great news if you're trying to find a program that matches your lifestyle and current career demands. In general, you've got five options:
1. Traditional MBAs. If you like structure and the hands-on experience of being in a classroom, the traditional MBA is for you. Many people are also attracted to them because of their networking potential.
2. Online MBAs. Competitive online MBAs are increasing in popularity. They're convenient, especially if you prefer to keep working, but want to go to school full-time. Many now even offer career networking opportunities to connect digitally with your peers.
3. Accelerated MBAs. In an accelerated program, you may take classes right through the summer or take many classes online. Your winter and spring breaks will also be shorter, but you'll complete the program faster.
4. Part-Time MBAs. Part-time MBAs allow students to keep working while enjoying the structure of a classroom. They often include evening classes and may take longer to complete.
5. Executive MBAs. If you're already mid-career and are ready to take your next step, an EMBA might be for you. Here's a closer look at this program geared towards those aspiring to reach executive levels.
Your most significant decision lies in choosing between traditional or online MBAs. We've got a few thoughts on that.
How Much Does an MBA Cost?
According to Poets & Quants, the average cost of a traditional MBA program ranges between $50,000 and $80,000 – with nine schools in the U.S. exceeding $200,000 for their programs.
Many major universities also offer very competitive online MBAs. In-state tuition often ranges around $15,000, while out of state tuition averages about twice that amount.
Currently, QUANTIC offers an accredited EMBA and MBA program online that's just a fraction of the cost of traditional elite programs. This hyper-competitive program is worth considering if you're seeking a high-caliber education that offers flexibility and rigor. Both the MBA and Executive MBA cost $950 USD per month over the 14-month duration of the program which will prep you for pursuing an executive position.
How Long Does It Take to Get an MBA?
The duration of a program depends on several factors, especially whether you're attending full-time or part-time. The average lengths of time for different MBAs include:
Full-time traditional MBAs: Two full years, or four semesters.
Part-time MBAs: Typically, around three years.
Accelerated MBAs: Between one and two years.
Executive MBAs: Two years.
Online MBAs: One year. (Our MBA takes 14 months.)
Should I Get an MBA in 2020?
If you're interested in an MBA to further your career, you've got more options than ever before. The rise of affordable, online MBAs can be precisely what you need to advance your career. However, MBAs aren't always appropriate for everyone. It might be the right choice for you if you're:
Encountering more scenarios at work that require deeper business knowledge than you possess.
Feeling stuck and not sure how to move your career forward, or you want to change careers.
Aiming for an executive-level position in your career.
Seeking to broaden your professional opportunities with high-quality business connections.
Prepared to face (and feel excited by) the rigors of a program like an MBA.
Thinking about one day starting your own business from scratch.
If most or all of these are true, then an MBA could be right for you.
Summary: Choose the Right Degree for Your Career Growth
Pursuing an MBA is a difficult challenge, but one that pays off in the long run. Hopefully, this article has given you some ideas about whether you should get an MBA. 
As with any significant decision, knowledge is power. We've explored your options, the different types of MBAs now available, and why attaining one can make you such a valuable employee in the marketplace. You're now equipped to make the right choice in the next step of your career. Go forth and prosper.