LEADERSHIP
How Many Fortune 500 CEOs Are Women? And Why So Few?
When Katherine Graham rose to become the CEO of The Washington Post, she carried the hopes of millions of women worldwide. 
Suddenly a woman could dream of life outside housekeeping and child-rearing. Not only that, a woman could work her way to the very pinnacle of career success.
It was the start of a new era of women leaders, or so we thought.
Marion Sandler became the second Fortune 500 chief with Golden West Financial, but alongside Herbert Sandler.
It took a decade for Linda Wachner to become the third Fortune 500 CEO with Warnaco Group and another ten years for Jill Barad to become the fourth with Mattel.
In the years that have followed, we've seen more female Fortune 500 CEOs, but not much has changed; women are still a minority with 8.1% as of 2021. That's 41 female executives out of 500 Fortune CEOs.
We've gathered together more data on women executives according to race, industry, and how to improve gender diversity in upper management. 
Female CEOs Statistics
The following statistics cover the number of female Fortune executives, Black female CEOs, and women in the technology sector. In some sections, we'll compare different years and comment on noticeable trends.
How Many Women Are CEOs?
According to a 2010 publication by the BLS (Bureau of Labor and Statistics), 24% of CEOs in the US were women. They also earned 74.5% as much as their male counterparts.
By 2015, 27.9% of chief executives in the US were women, which represented a growth rate of 3.9% in 5 years. The following graph illustrates the average distribution of executive roles between men and women in 2015. 
In their most recent 2020 survey, the BLS estimates that women occupy 29.3% of the chief executive roles in the US.
From this estimate, female executives grew by 1.4% between 2015 and 2020, which was a slowdown in growth from 3.9% between 2009 and 2015.
While this general growth suggests that more companies are working on gender equality, the low rates mean more needs to be done.
How Many Fortune 500 CEOs Are women?
The following table highlights the distribution of Fortune 500 CEO roles according to gender from 2000 to 2021. The number of female executives has increased since 2000, but the distribution is uneven, with men holding most positions.
| | | |
| --- | --- | --- |
| Year | Women | Men |
| 2000 | 2 | 498 |
| 2001 | 3 | 497 |
| 2002 | 7 | 493 |
| 2003 | 7 | 493 |
| 2004 | 8 | 492 |
| 2005 | 9 | 491 |
| 2006 | 10 | 490 |
| 2007 | 13 | 487 |
| 2008 | 12 | 488 |
| 2009 | 15 | 485 |
| 2010 | 15 | 485 |
| 2011 | 12 | 488 |
| 2012 | 18 | 482 |
| 2013 | 20 | 480 |
| 2014 | 24 | 476 |
| 2015 | 24 | 476 |
| 2016 | 21 | 479 |
| 2017 | 32 | 468 |
| 2018 | 24 | 476 |
| 2019 | 33 | 467 |
| 2020 | 37 | 463 |
| 2021 | 41 | 459 |
Source: Fortune
In 2020 there were 37 female Fortune chiefs (7.4%). In the following year, this number rose to 41 (8.1%), increasing 0.8%.
Five years ago, in 2016, there were 21 female Fortune 500 CEOs (4.2%). Since then, this number rose by 4% to 41 as of 2021.
Ten years ago, in 2011, there were 12 women in the Fortune 500 CEO role (2.4%). Since then, this number rose by 5% to 41 as of 2021.
From these statistics, the percentage of women in CEO roles has steadily increased since 2000, albeit slowly. At 41, Women are still the minority; we'll delve into reasons for this later on.
Black Women CEOs
In 2018, Donte Robinson and Rashon Nelson—two Black men—went into a Starbucks Philadelphia store for a business meeting. In a bizarre turn of events, both men were soon in handcuffs and under police escort.
Their charge? Trespassing.
The incident made national headlines and brought to center stage the issue of racial bias. It was a PR disaster for Starbucks and an opportunity for then COO Rosalind Brewer and her team.
Following the incident, Starbucks closed all its US stores to conduct racial-bias training, inclusion training, and empathy training for employees. The company also updated its policy to accommodate non-paying guests and allow them to use their restrooms.
Today Rosalind Brewer is the CEO of Walgreens Boots Alliance and one of four Black women to lead a Fortune 500 company. The following statistics demonstrate the underrepresentation of Black women in Fortune boardrooms: 
Since 2000, the number of female Fortune 500 CEOs hit an all-time high of 41 in 2021. In the same period, there have only been four Black women Fortune 500 CEOs.
For the first time, in 2021, two Black females are at the helm of Fortune 500 companies at the same time: Roz Brewer and Thasunda Brown Duckett.
With two Black women running Fortune companies out of  41 women executives in 2021, they represent 4% of female Fortune 500 CEOs.
Women Tech CEOs
According to a 2011 BLS report on gender inequality, women often feature more in some industries than in others, like tech.
For instance, a 2010 DoL (Department of Labor) study found that women mainly feature in industries like education (68%), health, and social services (79%). They feature less in professional, scientific, and technical services (43%) or construction (8.9%).
Today, the tech industry largely remains a boy's club; only about 14% of US startups have a female CEO. Plus, the likelihood of a female CEO depends on the founding team and whether there is a woman on it. Only 2% of startups with all-male founding teams have a female CEO.
The good news is that there's still much to accomplish for gender equality in the tech industry, like getting more women into STEM fields and subjects.
The Women CEOs of Fortune 500
In a landmark study of what makes women CEOs different, Korn Ferry (a consulting firm) realized that women executives shared STEM (60%) and business (19%) backgrounds.
These are fields that involve precision and definable outcomes. As such, they served as springboards for these women's careers in upper management.
Another defining trait of Fortune 500s women CEOs is their resilience. The study revealed that women CEOs were 4 years older than their male peers and worked in more positions to get to the top. The following are a few such executives.
Susan Wojcicki: CEO of YouTube
Wojcicki attained an MBA from UCLA Anderson School of Management and a master's degree in economics. Soon after, she became Google's first marketing manager.
During this time, she introduced AdSense and was in charge of Google Videos when a free video-sharing website caught her attention: YouTube.
Ultimately, Wojcicki convinced Google's cofounders to buy YouTube and became senior vice president in charge of ad products. Later, she succeeded Salar Kamangar as the CEO of YouTube, where she still works today.
"Tech is an incredible force that will change our world in ways we can't anticipate. If that force is only 20–30% women, that is a problem."
— Susan Wojcicki, CEO of YouTube.
Mary Barra: Chair and CEO of General Motors
Mary Barra started her GM career at 18 when she participated in a program that helped pay for her tuition. 
She graduated from Kettering University with a degree in electrical engineering in 1985 and an MBA from Stanford Graduate School of Business in 1990. With that, her career in management was underway.
Since then, Mary Barra went from GM manager to Senior vice president (2011), to GM executive vice president (2013), and then CEO of GM (2014).
"Education will open doors, talent will open worlds, but it is hard work that will enable you to accomplish more than you ever imagined."
— Mary Barra, CEO of GM.
Ursula Burns: CEO of Xerox (2009-2016) 
From her early years at Cathedral High School, Burns excelled in math. This interest led her to a bachelor's degree in mechanical engineering from the Polytechnic Institute of New York University and a master's degree in mechanical engineering from Columbia University.
Burns later joined Xerox as a full-time employee, and her first role was in product development. Gradually, she moved through various positions before becoming senior vice president in charge of product operations.
This new role exposed Burns to global research, marketing, and eventually led her to become president of Xerox in 2007. In 2009, Ursula Burns became the first-ever Black CEO of a Fortune 500 company (Xerox) and the first to succeed another female in that role.
After stepping down as CEO of Xerox, Ursula Burns still serves as a board director of American Express, Exxon Mobil Corporation, Datto Inc., and Nestlé.
"Dreams do come true, but not without the help of others, a good education, a strong work ethic, and the courage to lean in."
— Ursula Burns, former CEO of Xerox.
Highest-Paid Women CEOs
According to Fortune, the following is the list of the top 10 highest-paid female CEOs of 2021 and their companies: 
Karen Lynch, CVS Health
Jane Fraser, Citigroup
Julie Sweet, Accenture
Carol Tomé, UPS
Mary Barra, General Motors
Rosalind Brewer, Walgreens Boots Alliance
Gail Boudreaux, Anthem 
Abigail Johnson, Fidelity Investments
Ruth Porat, Alphabet Inc
Thasunda Brown Duckett, TIAA
Why Women Aren't CEOs, Traditionally Speaking
Despite progress over the last two decades, women face significant obstacles in advancing and remaining in executive positions. Among them is not being taken seriously.
Nancy McKinstry is the CEO of Wolters Kluwer and has an MBA from Columbia University. For all her credentials, all one newspaper had to say about her strategy press conference was that McKinstry's suit reassembled a KLM stewardess'.
As McKinstry's suit illustrates, women leaders' experience differs significantly. If a male CEO talked about strategy, it's unlikely that anyone would focus on his clothes. The following are further reasons why more women aren't CEOs.
Work-Life Balance
Most businesses operate on a culture of constant availability to stay competitive. From full-time employees to managers, companies expect overtime, out-of-hours phone calls, and emails, etc.
As you rise in ranks and responsibilities, these expectations also rise. As a result, it becomes harder for women to compete effectively with males when the extra burden of family responsibilities factors in.
Most women today still take care of household duties, even when working a full-time job. This fact limits their availability and locks them out of potential leadership roles, creating a pipeline issue in the process.
As such, there are fewer and fewer women as you move up the corporate ladder, with fewer women than men to replace them.
Graduate School Timelines
Some companies allow their staff time off for educational purposes, even paying for it. However, in today's always-available work culture, most companies prefer part-time working arrangements. 
With this system, workers advance their education and skills while companies retain their workers, albeit part-time. As a result, companies don't need to hire extra staff or train existing ones, and work continues.
It seems like a win-win situation, except it's not for women. Most graduate programs coincide with childbearing years. As such, it becomes difficult to juggle between work, graduate school, and family.
Often, it becomes a choice between putting off graduate school or shying away from it. As Korn Ferry noted, most women CEOs are generally older than their male counterparts, possibly because they took some time off for family.
Segregation by Gender
Within management functions, women are comparably concentrated in specific roles compared to men.
In a recent report by the ILO (International Labor Organization), women are more likely to work in human resources, public relations, finance, and administration, rather than operations and sales, research and product management, or general management. Men dominate these roles.
This trend reflects a corporate culture that confines women to specific roles, limiting their exposure and experience; both are crucial for top positions. What's surprising is that this isn't a recent phenomenon.
On March 16th, 1970, 46 women researchers from Newsweek and their lawyer held a press conference. Together, they announced that they were filing an EEOC (Equal Employment Opportunity Commission) lawsuit against Newsweek—the first-ever female class action lawsuit.
Newsweek had a "female ghetto" (the research department) where women from prestigious schools would work and never rise to editorial positions. It was a segregation system that separated research work and editing roles according to gender.
Despite Newsweek agreeing to a settlement, not much changed. Women still couldn't rise to editorial and writing positions and had to sue a second time.
This lawsuit triggered subsequent lawsuits at Time, Sports Illustrated, and the New York Times, shedding light on the extent of the problem (sexism). 
Unequal Networks and Mentoring
Networks significantly impact careers. They provide access to sponsorships, job opportunities, mentorship, referrals, build reputation, etc. Ultimately your network influences how fast you can get a promotion.
The problem is that men occupy most boardrooms and leadership positions. Consequently, women are less likely to have strong professional and mentorship networks, social ties, or insider information. There just aren't enough women in powerful positions. 
Without access to such networks, it's hard to imagine more Women CEOs. Essentially, it represents a lack of infrastructure.
How To Overcome the Disparity Of Women CEOs
Voluntary Targets by Companies
Boardroom quotas often seem like the best solution to gender inequality. Germany made it mandatory for some of Europe's largest companies to have women in 30% of boardroom seats.
Unfortunately, to stay competitive, companies must hire according to needs, skills, and abilities. In some cases, this may be disproportionate to specific quotas.
An alternative approach is for companies to set voluntary targets that push for more women in boardrooms.
Flexible MBA Programs
Experience, exposure, and an MBA education go a long way towards climbing the corporate ladder. 
Despite their importance, traditional MBAs are notoriously expensive and not accommodative enough. From rigid timetables to high accommodation costs, it can be inconvenient even for part-time workers.
The good news is that accredited online MBAs offer equal opportunities to traditional MBAs, with more flexibility and fewer costs. One such course is the Quantic MBA program.
In today's always available-work culture, Quantic's MBA programs fit right in. The program features a comprehensive curriculum covered at your pace, so you won't have to miss work.
Plus, Quantic's program gives you access to a network of employers, mentors, and investors that's sure to speed up your career growth.  
Apply for our MBA here.   
"Quantic was a great way for me to obtain additional business acumen without needing to commit to the time and cost of a traditional MBA."
— Liza Graziano, Verizon, HR
Quantic Student Spotlight
Catherine Johns'
Her background in the space industry and her current position as the CEO of Kielder Observatory, a public astronomical observatory, demonstrate her leadership and management skills that are essential for being a Fortune 500 CEO.
Her passion for space exploration and astronomy has driven her to create opportunities for people of all backgrounds to experience moments of inspiration, revelation, wonder, and hope through observing the cosmos.
Moreover, her experience in launching new projects, such as Kielder Constellations, and her focus on expanding innovative ways to learn, such as taking Quantic's Executive MBA program, highlights her ability to adapt to changing circumstances and think outside the box.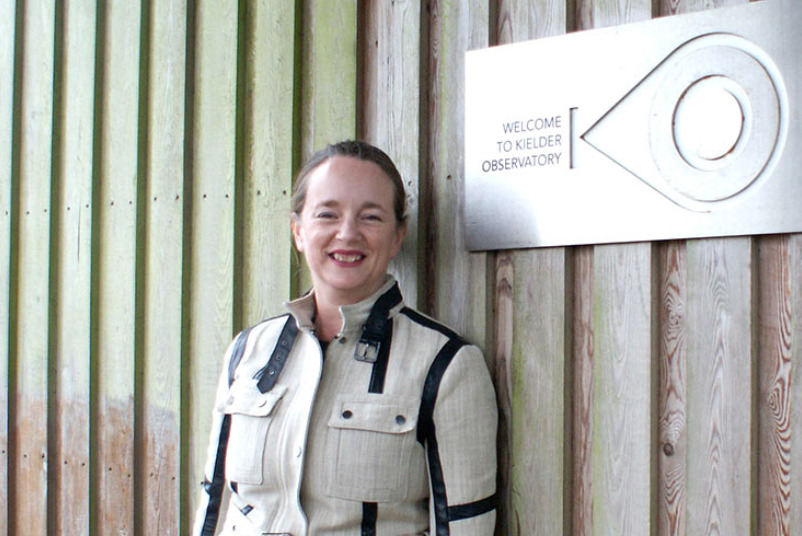 Girl Up's Virtual Summit
Naomi Naik, a Girl Up Communications & Digital Media Associate, helped in adapting the global leadership summits of Girl Up, a leadership development movement that engages, trains, and mobilizes girls around the world to take action to achieve global gender equality, from in-person events to virtual ones due to the COVID-19 pandemic.
Naomi and her team worked diligently for weeks to create an interactive experience online that could increase their reach given that the summit was usually in Washington, D.C. and capped at 450 attendees. The virtual summit gained the attention of global leaders and changemakers like former U.S. First Lady Michelle Obama, Meghan Markle, the Duchess of Sussex, and Facebook COO and Lean In Founder Sheryl Sandberg.
Frequently Asked Questions
What is the average salary of a Fortune 500 CEO?
According to Fortune, the top CEOs earned an average of $12.3M as of 2020.
Which are the top 5 Fortune companies?
According to Fortune, these are:
Walmart
Amazon
Apple
CVS Health
UnitedHealth Group
Who is the youngest female Fortune CEO ever?
At 34, Katrina Lake became the youngest female CEO with Stitch Fix.