LEADERSHIP
Survey: Quantic Students Respond about Effects of the Covid-19 Pandemic on Employment Outlook
What we did
Quantic School of Business and Technology conducted a survey with students and alumni to better understand how the Covid-19 pandemic is impacting our community in regards to the employment market. Our goals were twofold: to better understand how and to what extent the pandemic is affecting our community, and to identify any strategies that could be of use. Here are our findings. Note: percentages reported below have been rounded to the nearest whole number. 
Who responded
Our community is particularly aware of and involved in the employment market — one of the main reasons people undertake an MBA program is to move up in their career or enter a new field. And because of the level of seniority and achievement of our students and alumni, many are involved on the hiring side as well. We sent this survey out to 5,000 Quantic students and alumni, and heard back from 1,743 of them.
25% (443) were exclusively seeking employment
25% (433) were exclusively hiring 
10% (177)  were involved in both activities
39% (685) were involved in neither
We got broad industry representation with respondents from agriculture and the arts to travel, transportation and telecom.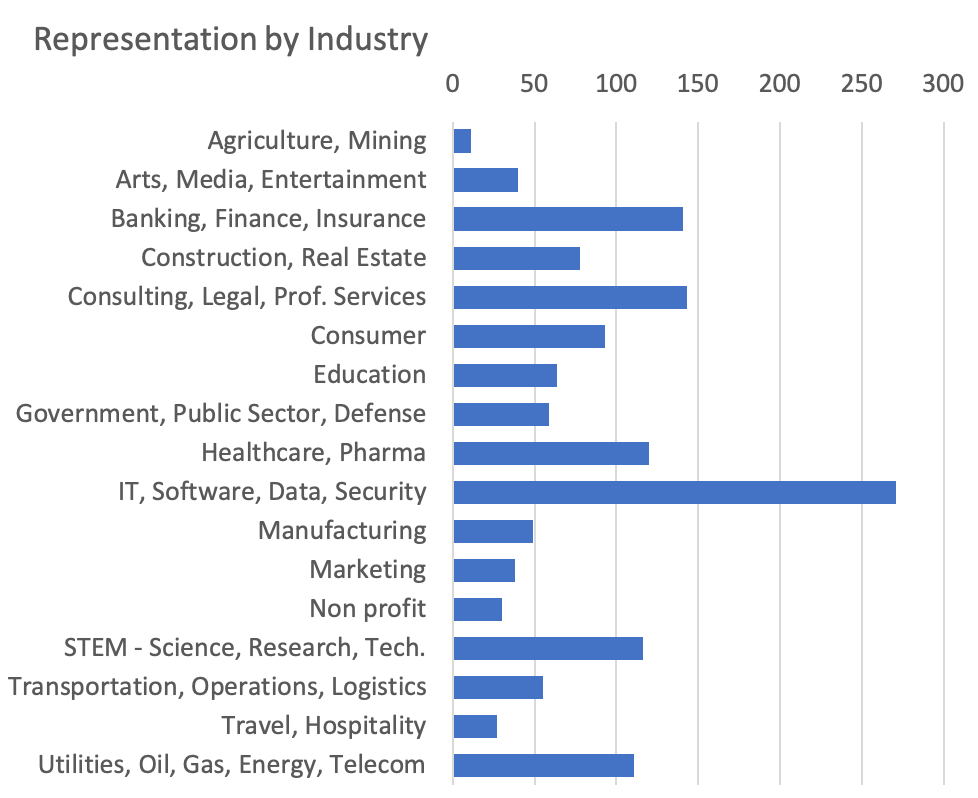 What we learned
Sentiment
Overall, there was a drastic shift in how people feel about the state of the employment market. 
The numbers have flipped: Prior to the pandemic, over 60% were optimistic about the market; after, that number has dropped to less than 10%.  Prior to the pandemic, less than 10% were pessimistic; that number has soared to over 60%.
While that is a dramatic change, there are nuances as well: 
18% of respondents didn't change their overall opinion of the market (between 15 – 22 percent for each segment). 
A very small percentage, 3.3%, revised their opinions favorably, going from pessimistic to optimistic or neutral, or from neutral to optimistic. 
Those that were not actively involved in either hiring or seeking had the highest percentage of negatively revised opinions at 85% going from optimistic to neutral or pessimistic, or neutral to pessimistic. 
When asked to comment on this there was a wide range of responses – here are a few insights. Note: quotes below lightly edited for spelling, grammar, and clarity:
Analytic Observations
I believe Covid-19 will affect the job market globally. Home working could help cross country hiring and balance/reduce the global unemployment rate. Exceptional times require exceptional measures.
I believe we will have to adapt to the new normal and that presents the opportunity for us to re-think our mid to long term strategy and innovate accordingly.
I felt the job market before the pandemic was already heavily over-extended. In my opinion, it was artificial and unnatural for a bull market to rage on for ten years with no significant correction. For over a year, I was convinced a recession was going to happen but did not know what would be the catalyst for it.
Emerging Economies
 In West Africa, there's a high probability of decreased funding in the immediate future to areas of public health and social intervention.
Personally, I feel this pandemic has come at a time when Kenya is already economically on its knees. This virus has killed our hopes of recovering from our former status, and we are expecting very many deaths due to starvation and suicide.
While I anticipate that developed countries will be fine in a few months, I feel developing countries (South Africa, Nigeria and India especially) will be suffering the effects of this pandemic for years to come. 
Work/Life
It seems like parents are having an extra hard time with children at home and still trying to work. Schools here are having us home school so it takes a lot of time and energy. Productivity is down and stress is very high. It makes work and school difficult.
Industry Specific Insights
Our industry (management consulting / leadership training) has been hit hard. Especially at smaller consulting firms, we're seeing a lot of lost revenue and layoffs as corporations are pulling from training budgets to shore up core operations in this downturn. 
Our information technology field is much better than other markets and even possibilities to glow providing the solution during/after the Covid-19 problem. 
Staying in healthcare I feel optimistic. Potentially switching careers I feel less optimistic. Overall, at peace. 
The spread of the virus will change business dynamics, especially in the segments of the traditional heavy industry as steel for instance. The virus will also weigh on the overall economy much more than the 2008 crisis. 
My law firm provides services to Fortune 500 companies, financial institutions, and high-net-worth individuals. We expect a downturn over the coming weeks (perhaps months) in demand for our services. This will therefore impact the need for professionally qualified staff. 
Within the food industry, it's going to be a very steep uphill battle to get things back to the way they were.  
Strategy
We are a startup. We now aim to be self-sustainable rather than grow quickly because of the VC climate.
There is clearly a lot of unknown and I fully expect companies will either wait out or reevaluate their business model and roles needed to support it.
We realigned expectations and targets. The hiring policy reflects this, resulting in significantly reduced hiring for Q2 and Q3. We review strategy quarterly and depending on the situation in the coming months, further changes can happen, positive or negative.
Noticeable change in activity
The events are also altering how people interact. For seekers, 74% have noticed a change in hiring processes, including interview delays or cancellations, lack of announcements, or virtual interviews. Of the 428* people in that group, 24% of those who were seeking employment have decided to pause their search. 
On the hiring side, 53% have seen slowed activity, either putting hiring on hold, canceling interviews, or instituting a hiring freeze. 
Hiring Observations
With so much current uncertainty we are not making any major changes. We are taking a wait-and-see approach and minimizing expenses.
Our company (1500+) has instituted a hiring freeze, as have many others. Smaller firms in the industry are furloughing staff.
I am a hiring manager and have been told by my company that junior/associate level positions are on hold (I have one open position that has been temporarily frozen) until the "shelter in place" order is lifted and we can return to the office. Higher-level positions may still be filled, but all interviews will be over video calls.
Overall, I am very apprehensive to hire because I do not know the long term effects. 
What can you do?
This data doesn't exist in a vacuum. While the volatility is obvious and there's been a clear change in sentiment, here are some ways we can apply what we've learned to benefit ourselves and the Quantic community. 
Know you're not alone.
One of the most important findings is that this is happening to everyone — even those who aren't actively looking or hiring have felt the impact. 60%, of our community is directly impacted, and the other 40% are also noticing significant changes in the market. 
Many of the comments express similar thoughts around the changes that are taking place, including delays in interviews, hiring freezes, and slowdown in overall market activity. Even if you are negatively affected by what's happening, it's not just you. 
Leverage the network
If and when you become aware of opportunities, share them widely. You never know who's looking or who you might be able to help. If you hear of something you think might be a perfect fit for someone in particular, let them know about it, even if you're not aware they're on the market. You never know if they are looking for an opportunity. In addition to your regular channels, you can share opportunities and reach out directly to Quantic classmates and alumni in the online student portal.
Prepare for opportunity. 
There is still some activity happening: 15% of those who are involved in hiring indicated that they have not changed anything in regards to hiring or are still hiring as usual, and in a follow-up survey, 14% of respondents have increased the rate of hiring or are backfilling positions due to quarantine during this time. If you do want or need to make a change, do what you can to optimize yourself as a candidate. 
Research the market. Analyze job announcements in your field and identify the core competencies that are in high demand. Review your history for ways that you've demonstrated those skills in your career.
Update your resume. Make sure your Quantic career profile, resume, and LinkedIn profile are up to date, and draft a cover letter that you can customize as needed. 
Professional Development. If you have an experience or skill gap, now might be the time to fill it through education, or volunteering for a project at work to learn a particular technique (Remote project execution – check!)
Proactively contact your references. It's always easier to reach out ahead of time, stay in touch and catch up without pressure so that there's no rush when the time comes. 
If you have any questions about this survey, or ideas for Quantic that you'd like to share, please get in touch. 
---
* Percentage based on round one of survey respondents