CAREER PLANNING
Build Your Network with Quantic
There are many reasons why students choose to earn their MBA from Quantic. Quantic offers innovative degree programs that are online and mobile, so students can learn wherever they want. And for many, the highly selective and global nature of Quantic's admissions is a major draw—all in service of building an impressive and engaged network of students and alumni around the world.
Unlike many online education platforms, Quantic provides its learners with myriad opportunities to meet and connect. Quantic's Network allows students and alumni from the MBA and EMBA programs to discover students located in their geographic area and who share similar interests. And with the recent addition of the Network Events tab, students can now do more than just communicate on the platform; they can also connect in person.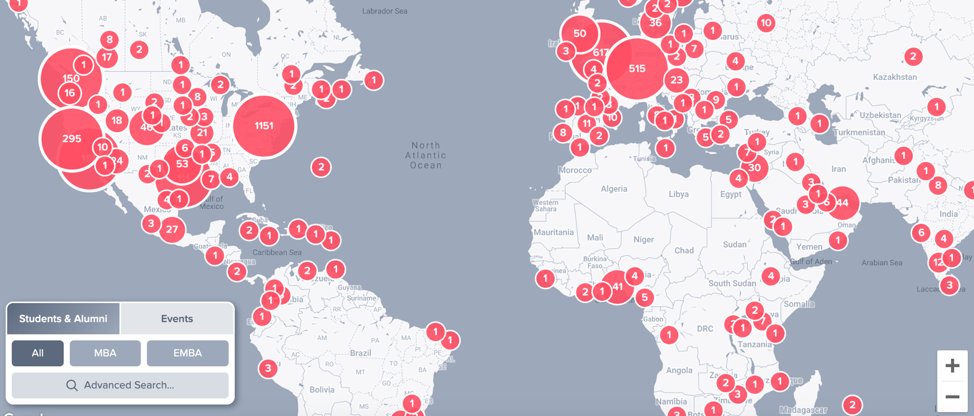 In the Events tab, students can peruse the many community events Quantic has to offer. These range from in-person conferences, meetups, and special events to online orientations and book clubs, where students discuss the monthly book pick over video chat. Some of the most significant networking opportunities in Quantic's highly engaged network are the in-person meetups and conferences held in cities around the world.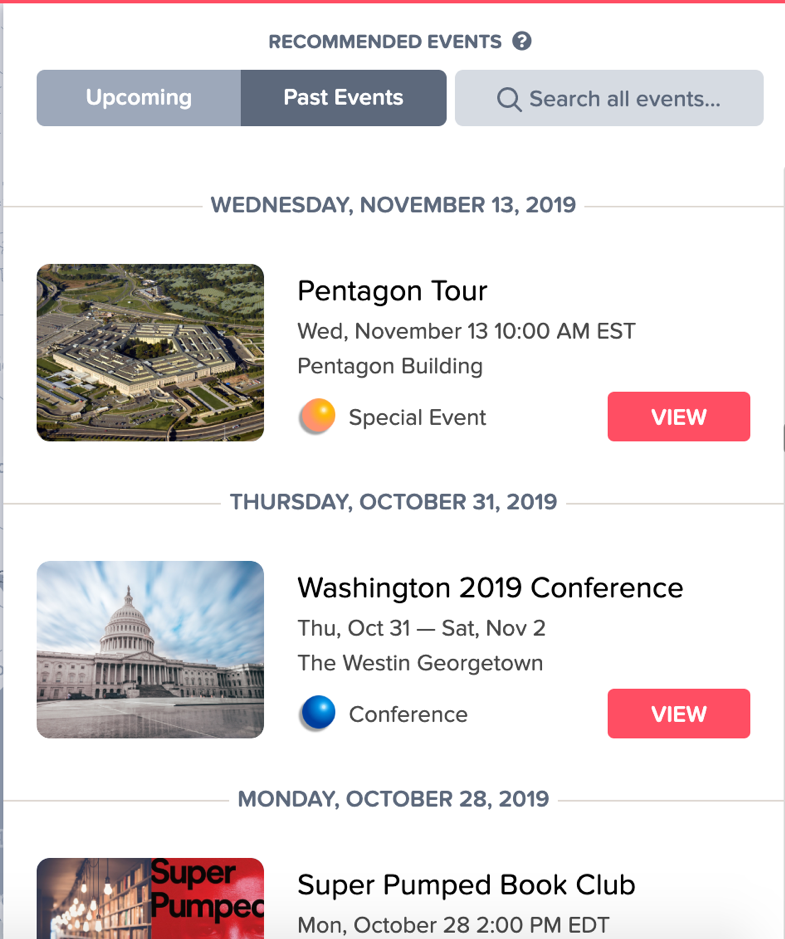 Quantic meetups allow for students to make real-world connections with their classmates. Meetups range from sharing dinner with one another at local restaurants to a special event such as touring Facebook's NYC Headquarters. Recent meetup cities include Toronto, Berlin, Taipei, and Sydney. Quantic has hosted meetups in over 40 cities in 2019 alone, including trips to tour the United States Capitol building and London's Houses of Parliament.
While meetups primarily bring together students and alumni who live in the same city, the weekend-long Executive MBA conferences draw students from (nearly) every continent. Conference itineraries vary from city to city and provide unique opportunities for students to experience and learn about the city they're in. In 2019, conferences were held in Washington D.C., Singapore, and Dublin, with the next scheduled for Spring of 2020 in Copenhagen.
Conferences provide an excellent opportunity for students to not only network with other students and alumni, but to learn about real world businesses. Students partake in workshops, collaborate on case studies, hear talks from prominent business leaders, and visit successful local businesses to gain new perspectives and insights on how businesses are run across industries and in different countries.
Why does Quantic put so much emphasis on students networking virtually and through conferences and meetups?
According to Alexie Harper, Quantic's Co-Founder and Chief Academic Officer, "Networking provides students with new career opportunities and allows them to meet the right people who may later provide them with career resources and support when they need it."
Networking can even be a source of inspiration—presenting different paths of success that others have taken and that you have perhaps overlooked. Particularly in mid-to-senior level management roles and for students embarking upon an entrepreneurial endeavor, networking is a vital component for advancing one's career, avoiding stagnation, and making the most out of opportunities that arise.
There's evidence that networking plays a major role in hiring. The chart below from SilkRoad's 2018 research report on hiring sources shows that referrals were the largest source of job hires by a long shot.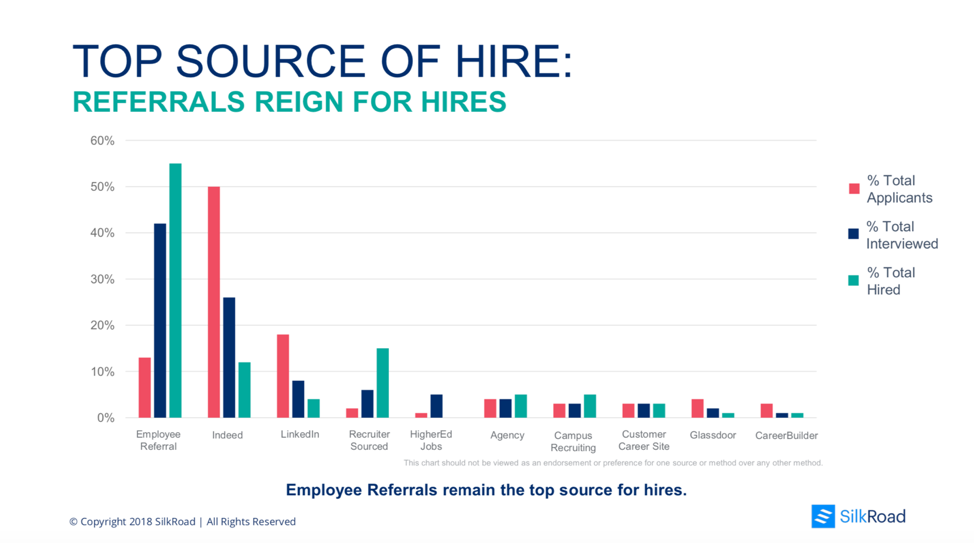 This chart from Statista shows that friends and professional connections provided the most new opportunities for job seekers in 2018.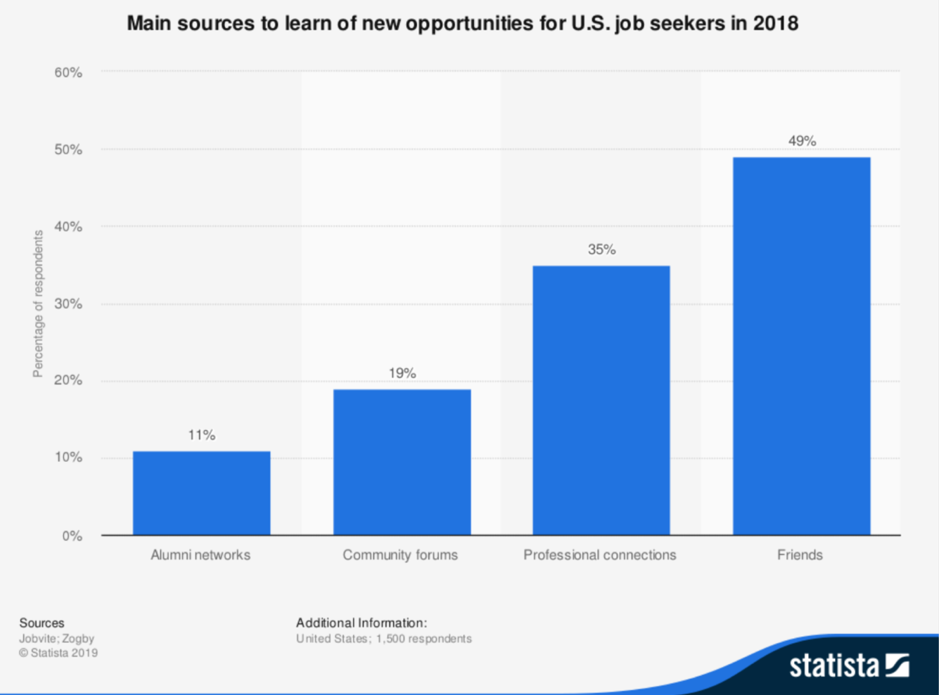 Through student projects that encourage students to work together to solve business issues, student meetups and events around the world, and the Network tab features, Quantic students are encouraged to build meaningful connections.
So go on. Meet new people, reconnect with old acquaintances, and grow your network. You never know where it could lead.